INTERDISCIPLINARY WORKSHOP
DATE: 1-5 June, 2016
ECOLOGY | SUSTAINABLE ARCHITECTURE | BIO-INSPIRED DESIGN | BIOPHILIA | RESILIENCY| C2C | BIOMIMICRY
NAH_Workshop DESCRIPTION
Join us at Nature, Art & Habitat Workshop in Soggiorno Mazzoleni -- Taleggio Valley, Bergamo, Italy: a 5 day immersive workshop that investigates nature as a source of inspiration for a resilient and sustainable future. Guided by local specialists, participants will explore nature's resources and intelligence to inspire a new methodology of approach for creative industries, based on our biophilic bond to nature.
The workshop emphasizes the continuum nature-culture by integrating human and technological culture into nature's web, spawned by a multidisciplinary and practical approach that combines thinking and making, reflection and craft, humanities and design.
This year's theme for Nature, Art & Habitat Workshop will be THE WOODS: its presence in nature as a renewable and depleting resource, and its ecosystemic coexistence in the Taleggio Valley. The workshop aims to uncover nature's harmonious biodiversity offering to participants the possibility to focus on nature as inspiration for creative work in their professions.
WHAT YOU WILL LEARN
Understand how nature can be both an integrant part of human habitat, and a source of inspiration for the creative process
Translate biological phenomenon into relevant and applicable design principles
Learn about bio-inspired design methodology and biophilia as tool to enhance sustainable life conditions.
Discuss Circular Economy strategies and the scalability of small communities, dynamic to more complex, and interdependent societies for sustainable and resilient living.
Create and enrich collaboration among people from different backgrounds that supports the coupling of human-nature interaction and a rich eco-systemic coexistence.
2016 THEME - "The Woods" and the Culture of the Valley
2016 summer workshop will focus on THE WOODS, a biome that helps sustain life on Earth by providing oxygen, stabilizing the soil and offering nutrients, shelter and energy to animals and humans, beside its progressive scarcity.
Representing 50% of the Taleggio Valley, the woods constitute a fertile ground for exploration in creative design. Inspiration can be gathered from unique forms and structures of tree trunks and canopies, the phototropic properties of leaves, the properties of the underground fungal network, or the symbiotic relationships among animal species. The woods can also represent the magic of a poetic evolution: seasonal changes, light reflections, molding shapes, historical and traditional arts & crafts legacy, and cultural identity.
Current pressing climatic threats push nowadays for a deep rethinking of the environment, by innovative interpretations and possible projects that will be able to elicit awareness and emphasize the crucial human contribution to the natural enhancement.
WHAT TO EXPECT
The workshop is conceived as a collaborative experience in which learning sessions are supplemented by round table discussions involving direct application of knowledge paired with interdisciplinary brainstorming.
Participants will be introduced to local culture and traditions, with local visits to artisans and farms, and trekking excursions at different levels of difficulty to natural spots within the woods habitat. Please be prepared with the right gear and shoes for not limiting your experience at large.
All activities will be in English, and, when in Italian, with a simultaneous translation.
We remind you that late spring is the perfect period to visit the Alps - vegetation is at its best, with blooming pastures and budding forests. Days are long and rain is usually sparse. Besides the immersion days in the field,you may want to tour the extended area with possible visits to San Pellegrino Terme with its new thermal baths, Bergamo with the walled upper city, Milano and the many activities connected to the Design Triennale: all of them are within driving distance. For longer trips you may decide to visit the Venice Architectural Biennale.
WORKSHOP FORMAT AND CALENDAR
Arrival afternoon of May 31, 2016 – Departure June 5, 2016 after 4pm or morning of June 6, 2016
Morning – hike and observations in the woods with experts
Afternoon – visits to local artisans' factories/shops working with wood and cheese making facilities
Evening – think tank conversations on main topics such as resilience, ecosystems, coexistence, circular economy, bio-inspired design and how to draw from nature as source of inspiration.
Meals - some meals will be provided/communal, others will be left up to individuals to allow for private time.
The workshop is coordinated by Ilaria Mazzoleni, with the participation of several scholars, scientists and makers on different days. Among others, Ilda Vagge will introduce the ecological function of the forest system, Nives Ghidotti, forestry technician, will explain the mode of defense and protection of wooded areas, Stefano Torriani, naturalist and artist, will offer a passionate description of his drawings depicting the nature of the Alpine region, Mycologist Pierino Bigoni will illustrate the underground interconnected world of the woods.
Beginning with observation, speakers will describe the use of woods as material for design: from furniture elements, to design products, to architectural elements. With artisan Stefano Offredi, we will tour a carpentry, learning about different woods species and tools to work with wood. Giancarlo Aresi, entrepreneur and craftsman, will talk about the use of wood in contemporary architecture, and Alessandro Mendini will close the meeting by hosting the group for an afternoon tea in his Liberty Style Villa.
The workshop will also include special tours of the Valley, its bucolic villages and landmarks. Special attention will be dedicated to Ecomuseo Val Taleggio. Considered the repository of local heritage and traditions, with its visitors centers, historical buildings, community museums, thematic routes, local farms, cheese makers and restaurant, the Ecomuseum' s mission is to promote new models of receptivity and community involvement. The presentation will be shared with all participants to the workshop to better understand the quality of the mountainous territory and to be part of the alpine local culture.
The evening sessions will allow for more theoretical conversations on topics such as resiliency, sustainability, bio-inspired design, circular economy, C2C, and LCA. During these conversations a few design challenges will be posited to simulate larger team project discussions that might simulate future models of project development participants can expand on themselves after having taken part to the workshop.
Detailed calendar will be released to participants upon arrival.

WORKSHOP LOCATION and ACCOMMODATION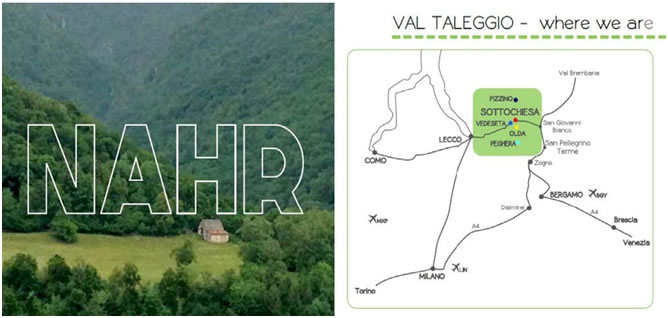 The workshop will be hosted at Soggiorno Mazzoleni, in the Taleggio Valley in Northern Italy. It will offer to the participants a lively space to productively interact, taking full advantage of the strength of surrounding nature as well as Italy's rich cultural heritage, combining open air life, sun therapy in the summer season, cultural traditions, nourishing food and healing aromas.
How to reach: Nested in the woods of the Italian Alps, Tallegio Valley is located 80 km from Milano (two airports: Linate LIN and Malpensa MXP). The local airport, Bergamo (BGY), is easy to access via regular and/or low cost airlines (Ryanair, Easy Jet). Buses from Bergamo arrive to the Village daily (the last one runs from Bergamo at 5.20pm).
Accommodation will be provided as studio or one bedroom apartment upon payment. Shared bedroom accommodation is available if desired. Companions are also allowed, with contained additional expenses. The residence is in a charming and comfortable, yet older, facility where Wi-Fi is available in the communal Wi-Fi zone. It is important to acknowledge that in the month of June the Alpine weather might be cold and rainy: a reminder to come prepared and ready to experience the natural environment!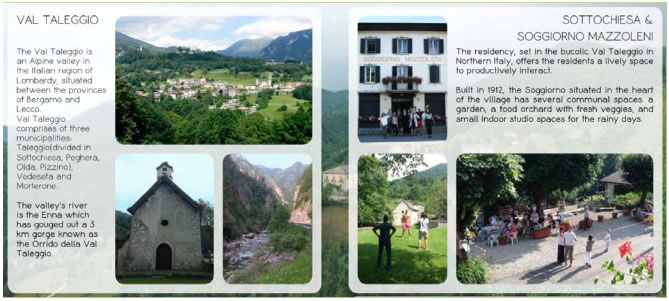 WORKSHOP LEADERS
The workshop activities are led by NAHR Founder's Ilaria Mazzoleni. Ilaria, a native of the Valley, will facilitate conversations and excursion with local experts and she will conduct the evening sessions on bio-inspired design – from the basics to the methodology. Local experts of the ecology of the valley will conduct the walks in nature, while artisans and cheese makers will share their knowledge and experience.
WHO SHOULD PARTICIPATE
This workshop welcomes:
Students and professionals from all disciplines with a range of prior knowledge and experience.
Innovators looking for a new approach on sustainability
Those who want to help facilitate a shift in methodology forming the basis of a professional practice that emphasizes nature and the integration of its dynamics, as both source of inspiration and goal for creative/productive projects.
Artists and activists who want to create awareness around nature-culture relations
Anyone who likes to immerse in experiencing the nature of the mountains
CREDITS TOWARDS PROFESSIONAL ASSOCIATIONS
By inquiry. Feel free to check via email for possible available credits.
SCHOLARSHIP AND REGISTRATION FEES
Tuition, activities, admin. fees and 5 nights lodging – 600 euro (food and personal expenses are excluded) – shared bedroom @ discounted rates available upon request.
Advance payment – 300 euro (return ½ if cancellation processed before April 30th, no return after that date)
Scholarships – partial scholarship for tuition fees are available for two students (current I.D. and certificate of enrollment to academic year 2016-2017 necessary).
TO ENROLL: please email Ilaria at Info@ilariamazzoleni.com.
We look forward to hearing from you soon!